Location: Makati
Makati, June 21, 2021. First Aviation Academy Inc (FAAi) has acquired all the training assets from Philippine Airlines Aviation School (PALAV). This includes nine (9) Cessna 172 and a Redbird Flight Training Simulator. PALAV will discontiue training operation effective end of June. FAAI's acquisition of this equipment positions it as becoming one of the premiere flight schools in the country.
Banking on the future, FAAi takes a step towards further strengthening the partnership between FAAi and PAL. This will benefit aspiring pilots and the industry alike, as it anticipates the airline industry normalizing its business and operations in the near future.
The FAAi and PALAV training programs will merge, providing a superior pilot training experience for current and future students. For FAAi Cadets, this is an enhancement of their training programs which, with the inclusion of the Cessna 172 fleet, will now complement the Tecnam P2010 and P2006 aircraft of FAAi. The increase in fleet is also good news for aspiring pilots, as FAAi can now accommodate more students to set more future pilots on track towards their dreams of flight and future careers in the global aviation industry.
Presently enrolled PALAV who transitioning to FAA can stay on track as they will continue their training program with the same fleet and flight instructors from PAL Aviation School that they have grown comfortable with.
The contract signing took place on June 21, 2021, at the MacroAsia Board Room, and was attended by PAL's Gilbert Sta. Maria (President) and Alvin Limqueco (SVP for Administration); FAAi's MGen. Restituto Padilla Jr. (Chief Operating Officer) and Serge Sarno (Interim Accountable Manager); Philippine Transmarine Holdings Officers and FAAi Board Members Gerardo Borromeo, Christina Manzano and Jaime de Sequera, who joined virtually; MacroAsia's Belgium Tandoc (VP Business Development); and MacroAsia Officers and FAA Board Members Amador Sendin and Joseph Chua, who joined virtually.
FAAi has faith that the Philippine Aviation Industry will continue its rebound and gears for future growth.
Soar high Philippines! Kaya natin ito!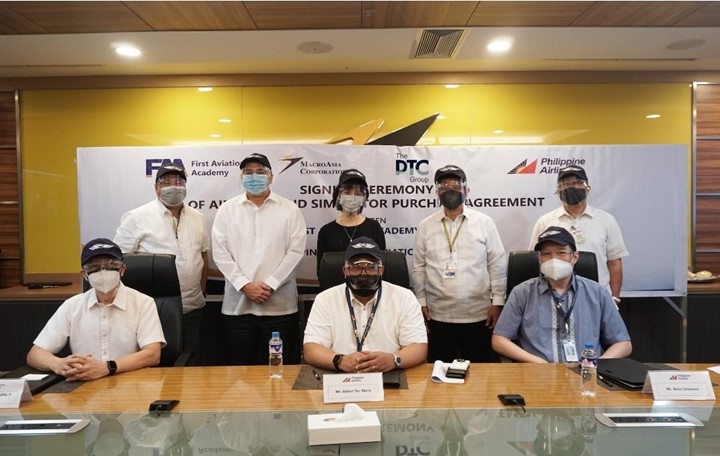 Standing from left: Belgium Tandoc, Macroasia VP for Business Development; Gerardo Borromeo, PTC CEO; Christina S. Manzano of PTCH; Amador Sendin, Macroasia CFO; and Serge Sarno, FAA Accountable Manager.
Sitting from left: MGen. Restituto Padilla Jr., FAA COO; Gilbert Sta. Maria, PAL President; and Alvin Limqueco, PAL SVP for Administration.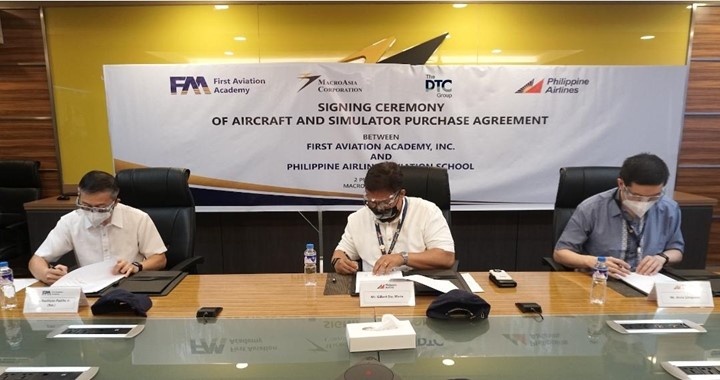 From left: MGen. Restituto Padilla Jr., Gilbert Sta. Maria, and Alvin Limqueco during the official signing of the agreement.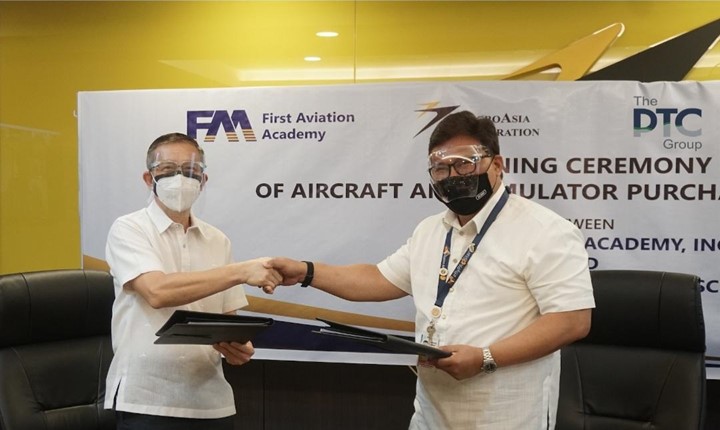 Official handshake between Mgen. Restituto Padilla, Jr. and Gilbert Sta. Maria.