By Arvi Perez
The global aviation industry is slowly waking up as the impact of the unprecedented COVID pandemic is waning. In North America and in Europe, it is coming back to almost pre-pandemic levels already. This is evidence of the resilience of the aviation industry in general. The aviation industry has survived various crises since after WWII such as regional wars, economic and oil shocks and various medical outbreaks. The COVID pandemic has been the longest and has affected the aviation industry severely. Nevertheless, its long term trend is still on a growth trajectory.
Years before the pandemic, it was forecasted that an average of 4,100 average new pilots would be needed per year in the US or around 80,000 pilots needed in the next 20 years to replace retiring pilots in the USA. However, in the early days of the COVID pandemic, several airlines particularly in North America, offered generous early retirement packages to its senior pilots. This has moved forward the anticipated wave of pilot retirements in the US. The early retirements have exacerbated the predicted pilot shortage in the USA. Moreover, some pilots who were retrenched have decided to leave the industry and career totally.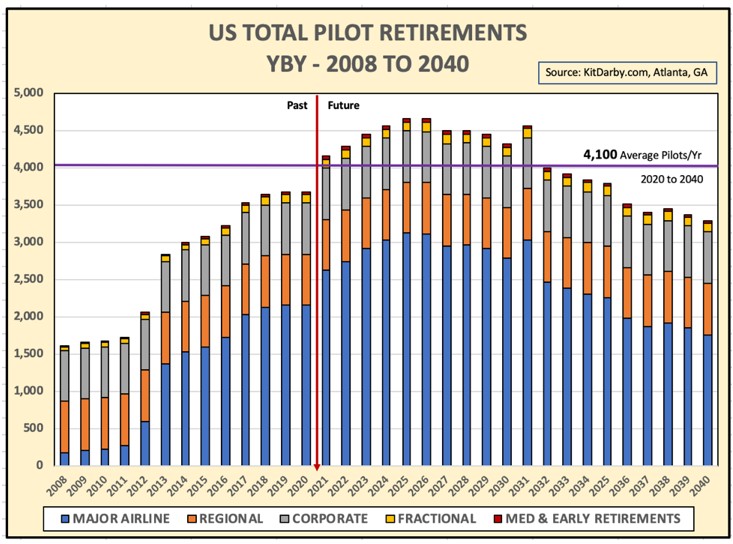 Industry experts are predicting pilot shortages all over. Industry consulting company, Oliver Wyman, states that it is not a question of if but when the pilot shortage will be felt.
Global pilot demand versus supply – Number of pilots (March 2021)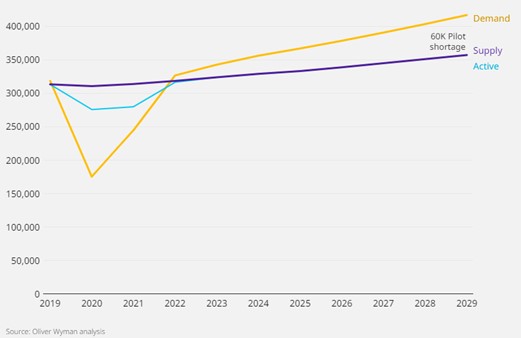 It believes that a global pilot shortage will emerge in certain regions no later than and probably before 2023. But if the industry recovers much faster, this shortage can occur much earlier in 2022. It estimates that there would most likely be a global gap of 34,000 pilots to 50,000 in the extreme scenario by 2025.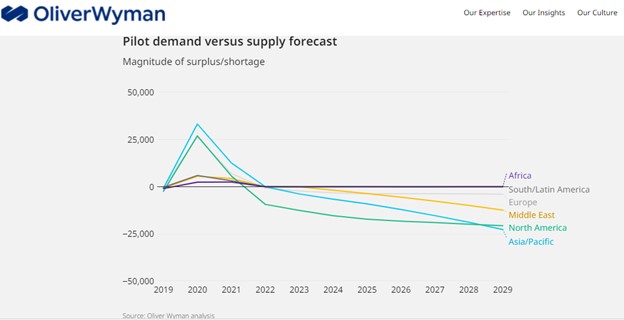 In its analysis, Oliver Wyman sees the largest shortages to occur in North American, Asia Pacific, and the Middle East. Due to its aging pilot population and early retirements, the shortage will re-emerge quickly in North America and is forecasted to exceed 12,000 pilots by 2023. Asia Pacific will surpass this by the end of the 2020s with a projected shortage of 23,000 pilots by 2029 because of its faster growth trajectory.
BOEING SEES A NEED FOR MORE THAN 600,000 PILOTS
In its yearly 2021 Pilot and Technician Outlook, aircraft manufacturer Boeing forecasted that there would be a need for 612,000 pilots from 2021 till 2040 with 108,000 of that needed in Asia-Pacific (excluding China).
Boeing Outlook 2021-2040 (Post-COVID)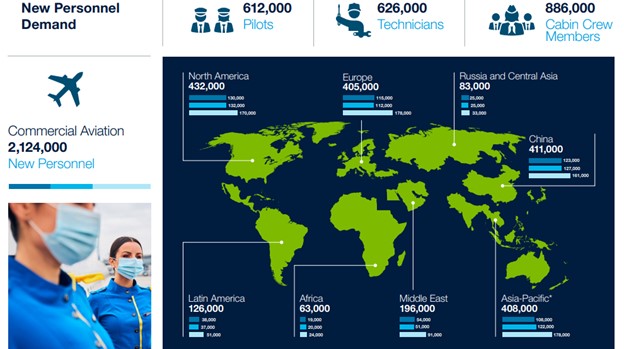 Boeing Outlook 2021-2040 (Post-COVID)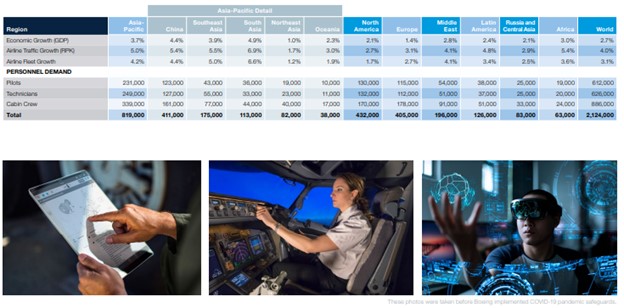 CAE, the world's largest flight simulator and pilot training network, also forecasted in its 2020 Pilot Outlook that the world would need 264,000 pilots from the ten-year period from 2020 till 2029 with the bulk of it or 91,000 needed in the Asia-Pacific region.
CAE Pilot Outlook 2020-2029 (Post-COVID)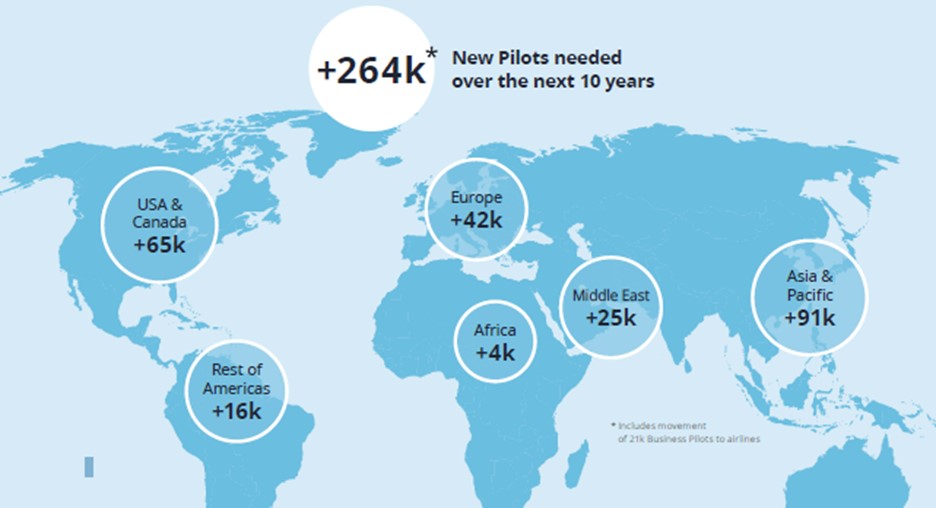 The long term prognosis for the demand for pilots in the next twenty years is thus very bright. Although the global aviation industry is just beginning to recover, given the average 2-3 years it takes to obtain a Commercial Pilot License and to build up flying hours, now is a good time to start.
Arvi Perez has been in the aviation industry for more than 20 years, working in general and commercial aviation and pilot training institutions. Currently, he is a consultant, doing business development on aviation-related opportunities for PTC Holdings.